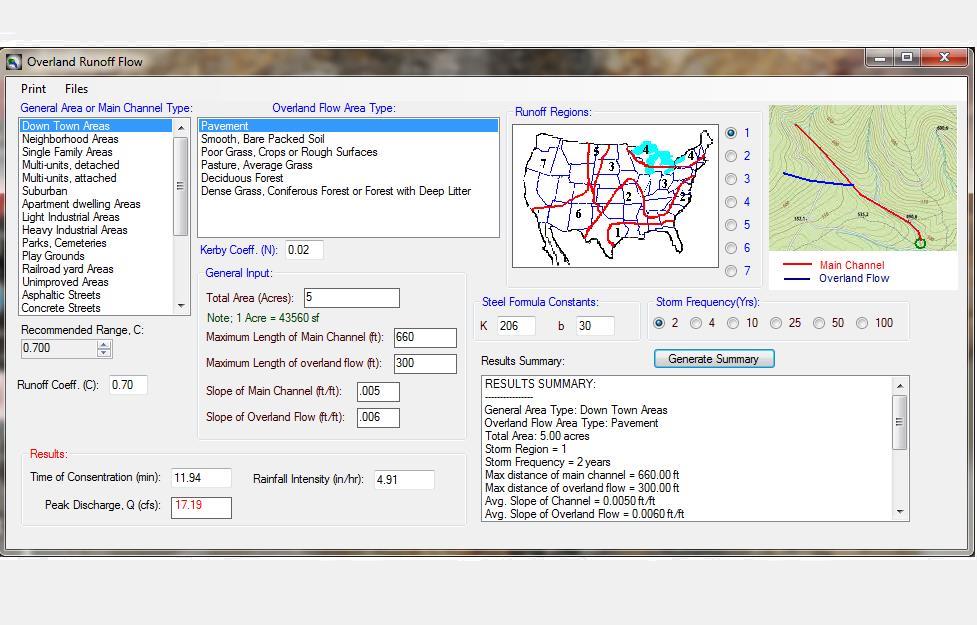 DrFlow
Program Features:
This program performs several features that provide water flow information.
The main features of the program are as follows:
Overland Runoff Flow Calculator:
The program will calculate the runoff flow based on area size, ground slope, rainfall intensity and time of concentration. It will account for general area flow into a channel and provide the final flow rate at the channel exit point. It will also calculate flow rate for a general area, with no channel.
Culvert Flow Rates:
The program will calculate the flow rate and flow velocity through a round or rectangular culvert.
Open Channel Flow:
The program will calculate the open channel flow rate and velocity for several channel shapes.
Curb and Grate Inlets:
The program will calculate the flow capacity into curb or grate inlets.
Weirs:
Weirs are used to obtain channel flow rates by measuring the depth of water as it enters the weir. The program provides flow information for rectangular and V-notched sharp crested weirs as well as broad crested weirs. It will account for bank angle and any piers that may be located on top of a broad crested weir.
The program will run on Windows 7, 8 and 10 operating systems.
The program help uses a PDF file. In order for the help to be viewed from the program the operating computer must be able to read a pdf file. If necessary a free Adobe PDF reader may be downloaded and installed from https://get.adobe.com/reader/.
Contact: techsupport@archonengineering.com
Note: If Internet Explorer does not load checkout form, use Firefox or Chrome.